Skip to Content
Custom Dentures in Chesterton, IN
Missing teeth can impact your daily life in numerous ways, preventing you from enjoying a complete diet and contributing to issues with self-confidence. At Smiles of Chesterton, patients who are missing teeth are invited to explore a variety of restorative dentistry options, including beautifully customized dentures.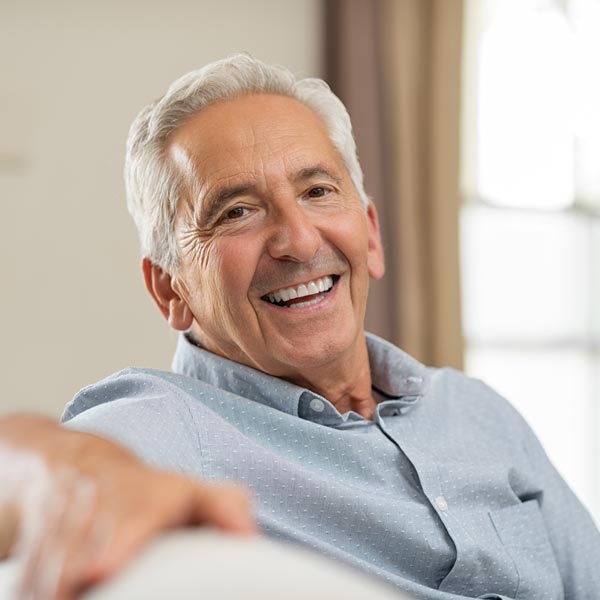 Why Choose Dentures?
According to the Centers for Disease Control & Prevention (CDC), 25 percent of adults over the age of 60 have lost all of their teeth. As patients lose teeth over time, their ability to eat, speak, and smile with comfort grows dramatically diminished. Our custom dentures can effectively replace all missing teeth to create a solid bite and a beautiful, natural-looking smile.
Total Tooth Replacement with Full Dentures
Full dentures – also known as complete dentures – are designed to replace a full arch of missing teeth. A full denture consists of a custom-fitted, gum-colored base and carefully crafted false teeth. This prosthetic is held in place with denture adhesive, natural suction, or a combination of the two. There are two types of complete dentures: conventional and immediate.
Conventional dentures are typically placed approximately 8 to 12 weeks after the extraction of any remaining teeth. This waiting period allows the gums to begin the healing process, ensuring a comfortable and secure fit. Immediate dentures are placed directly after tooth removal. Our team will gladly sit down with you to discuss your oral health history and your individual needs, providing you with guidance along every step of the way until you are completely satisfied with your new smile.
Filling in the Gaps with Partial Dentures
Partial dentures are an excellent restorative solution for patients who are only missing a few teeth within the same arch. A partial is a custom prosthetic fitted with replacement teeth that fits into your smile like a piece to a jigsaw puzzle. The false teeth of your partial are secured to your natural teeth by way of metal clasps or precision attachments. The shape, size, and color of these replacement teeth will be modeled after your natural teeth for a seamless, attractive appearance.
To promote optimal functionality, comfort, and aesthetics, Our team will assess your unique needs, talk with you about your expectations, and create a custom dental prosthetic just for you. Don't wait another day to discover what a difference our restorative dentistry solutions can make in your smile and in your life. Our patients are our number one priority, and we will always do everything we can to help.
Schedule Your Dentures Consultation
If you're searching for an experienced, highly trained dentures dentist in Chesterton and the surrounding areas, contact Smiles of Chesterton today. We look forward to helping you rebuild and rejuvenate your smile with beautifully-crafted dentures. Our conveniently located office in Chesterton, IN warmly welcomes patients from nearby communities in Michigan City, La Porte, Porter, Portage, Wheeler, and surrounding Northwest Indiana areas. When you need a complete smile again, give us a call and schedule an appointment. Reach out to our office by calling 219-926-5445 at your earliest convenience!